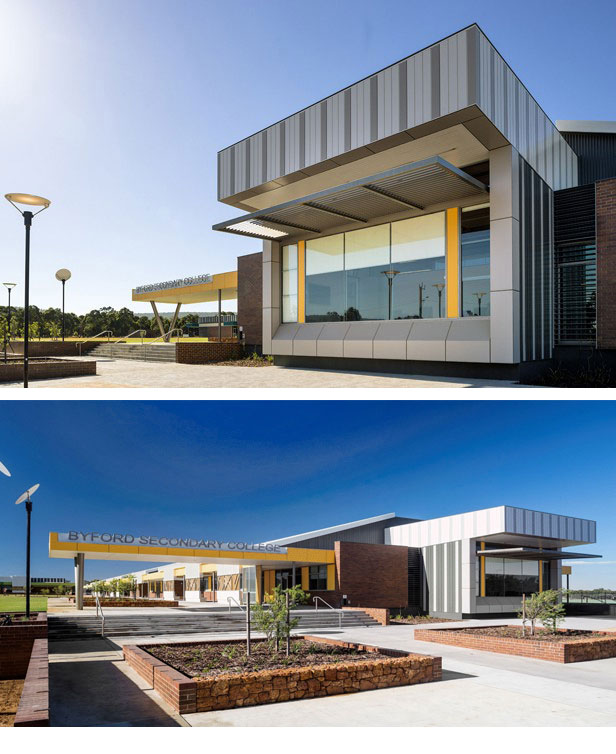 STAGES 1, 2 and 3
Location: Byford – 40 kms south of Perth, WA
Architects: Donaldson + Warn – Stage 1 & 2, Tag Architects – Stage 3
NuWall Profile: E 200
Powdercoat Colours: Woodland Grey, Dune and Surfmist
Byford Secondary College master plan accommodates a comprehensive secondary school for years 7-12 to be constructed in three stages.
Stage One – Single storey buildings on the north-east portion of the site, along with an oval, sports playing courts, pedestrian and vehicle access, car parking, and hard and soft landscape areas.
Stage Two – New facilities include two teaching blocks, a performing arts building, an educational support building, a sports hall and an extension to the teaching and education block. The performing arts building features a double-height performance room with retractable seating and feature timber walls to the entrance lobby.
Stage Three – The main lecture theatre is scheduled to commence in early 2017. A contemporary interpretation of a rural theme was chosen to reflect the historical land use and physical context beneath the Darling Ranges. A year on from the opening of stage one, the community has provided very positive feedback about the school.
The design concept and masterplan ensures that the first stage provides a distinct identity for the school with the grouping of the stage one buildings presenting an integrity and coherence of its own from the very beginning. Consistent with this theme was the use of NuWall profile E200 with like combinations of three colours throughout the three stages, despite changes to architects, builders and installers at the project.
.